Any utility with linear assets (such as pipes, valves, and meters) needs to use GIS as an integral part of their asset management system.
GIS and mapping allows you to view the location of your work orders and assets. You can use GIS to attach assets to work orders or to create routes for performing regularly scheduled maintenance. GIS can help you to identify which valves you need to close to isolate a leakage.
The MAMS Suite (Mobile Asset Management Systems) brings this capability to Maximo, both in the office and in the field.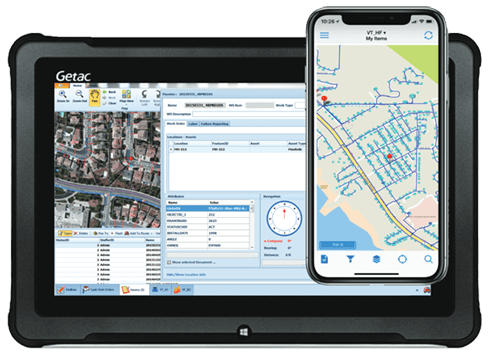 MAMS is a single platform with out-of-the-box, GIS-enabled mobile work order management for Maximo.
MAMS provides three integrated enhancements to Maximo. These include a sophisticated rule-based synchronization of GIS data with Maximo, the ability to view GIS mapping inside Maximo, and a comprehensive mobile application and framework to work on work orders and service requests.
MAMS as a platform enables you to combine other workflows with Maximo. For example, you can process your Call-Before-You-Dig tickets in MAMS together with your Customer Service Requests.
What the

MAMS Suite OFFERS
GIS Asset Synchronization
Map Tab in Maximo (Utility Maps)
GIS-Enabled Mobile Work Order Management Solution
Ability to view related data (e.g., Customer Information) in the Map Tab
Ability to generate GIS Redlines for correcting map data
Built-in Navigation and Optimized Routing to plan work
Built-in Call-Before-You-Dig Workflow
Mobile Customer Service Request Management
GIS-Enabled Operations Dashboard to view work progress and asset status
Hydraulic Equipment Interface (e.g., Valve Turning Machines)
Working Online or Offline – Reliable for all Field Conditions
Ideal for Emergency Management (i.e., access to data without connectivity)
CCTV Observation Visualizer
(Vulnerability Assessment)
More information on



THE MAMS SUITE
:
MAMS PROFESSIONAL
Starting out and want to take first step towards progressive implementation? As a stepping stone to the more robust MAMS Enterprise, MAMS Professional can make moving towards an Enterprise System more affordable and less risky.

MAMS Enterprise
Ready to scale up? MAMS Enterprise Solution is a combination of Spatial Wave's MAMS Professional Tools and Maximo®, IBM® 's asset management system to meet all of your asset management requirements.